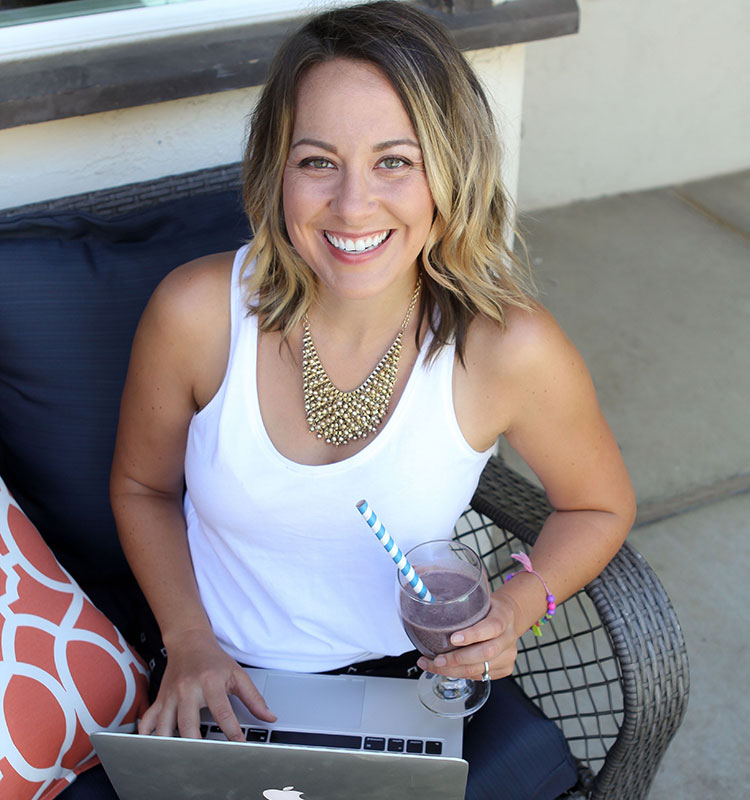 Our series adVenture of Entrepreneurship highlights our heroes, those who embrace and embody the spirit of adventure throughout the journey of entrepreneurship – the highs and lows, successes and adversity. Those who see a problem or need as an opportunity, who work tirelessly to transform "impossible" to "possible," "dream" to "reality."
Michelle Smith is the founder of The Whole Smiths, a wildly successful food blog that features recipes for families and busy people who want to eat clean. Her recipes strike an ideal balance between pretty, appetizing, and obtainable. Almost all her recipes contain 5 ingredients or less. What makes The Whole Smiths stand out is Michelle's unique ability to provide exceptional content without taking herself too seriously. It is hyper-important to her that she doesn't portray recipes — or her life— too perfectly. So she curates The Whole Smiths to offer a real, authentic glance into the life of a young, active mom whose passion lies in the kitchen.
Michelle hasn't always been a whiz in the kitchen. When she was younger, her mom regularly cooked homemade food and while she was grateful for her mom's meals, her skills in the kitchen didn't fully develop until she was just out of college. In fact, her mom actually had to make her final project— a simple spinach dip­— for a high school cooking class. When Michelle was 23 she moved to San Francisco with a roommate and this is where she really started to explore her culinary talents. Together they created healthier options of their favorite recipes opting out of the expensive San Francisco restaurant scene. She discovered during this time that she also prefers being creative and figuring things it out to following a recipe (this creativity adds a wonderfully unique quality to her recipes on The Whole Smiths). It was during this time that Michelle also started playing around with gluten-free and sugar-free meals, realizing that they made her feel much, much better. Today Michelle and her family primarily follow a paleo, gluten-free diet, which is what is mostly represented on The Whole Smiths.
Michelle certainly makes running a successful blog seem effortless. But, like most paths worth following, her journey hasn't always been easy. Michelle used to work in the fast-paced world of start-ups doing sales and business development, but wanted to shift gears when she had children. Two and a half years ago, she took her love for making something out of nothing, paired it with her passion for creating in the kitchen and she was on her way.
Once she made the decision to start her blog, the first hurdle was to set up her website. She set it up and didn't even tell anyone for 6 months. Today she has over 55,000 Instagram followers, but then she had never used the network.
Once she realized that the blog was 'really happening', she started to view the site as a business and that's where the lessons began to appear. A few things she learned early on:
Always listen to your audience. The preferences of Michelle's audience inform The Whole Smiths' content and guide her recipe development. She understands deeply that if she isn't delivering what they want, the audience will eventually lose interest. Though, she is careful to not let this practice change who she is or what she has to say.
Don't be afraid of failure. According to Michelle, failure is inevitable in any start-up venture. It is best not to let it affect your aspirations or drive.
Celebrate the small milestones. Michelle remembers how elated she was when she hit 500 Instagram followers and recommends doing your best to never losing this sense of appreciation. If you are always looking forward, it can be hard to stop and celebrate the little milestones, but it is hugely important.
Nailing photography is key. Beautiful photography is what makes people pay attention.
Building long-term relationships. But, a food blog isn't just about creating pretty pictures. Helping brands to achieve their own organizational goals is key to creating a successful blog.
This last point goes both ways, as she says it is equally important for brands to approach influencer relationships with an open mind. Michelle's advice for brand managers: "Forming a productive bridge between brands and bloggers is critical. Building a framework that is aligned with a brand's values and letting the influencer fill that space with their voice is what resonates best with audiences and helps companies meet their objectives."
As any entrepreneur knows, the challenges don't just lie in the beginning, but are scattered throughout the journey. Here are a few more things that Michelle works through daily:
Time management. Her children are her number one priority and it is hard to balance. One way she manages this balancing act is to invite her two daughters, Teagan and Camryn, into the kitchen with her as her special helpers and taste testers.
Breaking through the noise. How do you compete with 20,000 tomato soup recipes on the internet? Michelle has found that the trick is to genuinely put her voice into the blog. When people know you and like you, yours is the recipe that they'll turn to.
Thankfully, building The Whole Smiths hasn't been all challenges and tough lessons, Michelle has also celebrated some awesome wins along the way. Successes like securing partnership with The Whole 30 and being featured in their upcoming cookbook as well as being named one of Dabble Magazine's 40 under 40 are sparkling accomplishments that help continue to fuel her passion.
So, you want to start a food blog? Michelle's advice: "Just keep at it and success will happen."