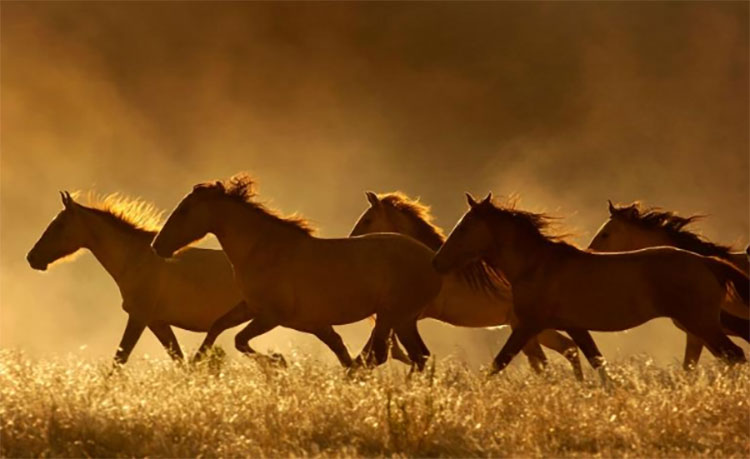 Imagine a rugged and wild land where the ability to exist, run, play, grow, create family, and know freedom was preserved.
Imagine those who dedicate their lives, resources, passion, property, and efforts to ensure this freedom exists, to protect that freedom from those who profit from enslavement, containment, mis-direction.
Thankfully, due to the strength and passion of Neda DeMayo and her team, wild horses and burros have this space at Return to Freedom in California.  They run free, breathe the fresh ocean air blowing across rugged coastal hills, and flourish in freedom. Return to Freedom is dedicated to preserving the freedom, diversity, and habitat of America's wild horses and burros through sanctuary, education, advocacy and conservation, while enriching the human spirit through direct experience with the natural world.
A chosen group of entrepreneurs, advisors, and investors learned together the value of this freedom at adVenturesAcademy 2017; camping in these beautiful rolling hills, surfing the rugged coastline, working together helping rebuild fence lines, gaining inspiration from Mati Waiya, Chumash elder and founder of the Wishtoyo Chumash Foundation, whose tribe has inhabited these lands for centuries, learning from each other. But what did this experience of returning to freedom have to do with business, building a high growth company with goals to make positive impact, understanding the barriers and challenges, meeting projections, handling the day to day issues, building velocity and navigating the rapidly changing terrain? Everything. For the story of the wild horse weaves through the story of the entrepreneur.
The inspiration and creative force behind the adVenturesAcademy, Alissa Sears, VP Growth and Strategy at Christie & Co, said it best:
"That vision was realized throughout our four days together. We laughed. We cried. We adventured. We shared our visions – and our greatest challenges and deepest fears. We helped each other. We learned from one another. Teachers became students – leading a program one minute and then learning the next. "Investors," "Entrepreneurs" and "Advisors" became friends. We shared dreams. We shared meals. We surfed together. We worked together. We got our hands dirty building fences. We made music together. We hiked. We told our stories. We learned open water rescue and saved each other. We connected deeply, and remembered to play."
All of us here at Christie & Co are here to help the brave, industrious, and spirited run free with their success and impact. Together we will Return to Freedom.
As Henry David Thoreau said, "In the wildness is the preservation of the world."
May we all protect and celebrate the power of the wild, for therein lies innovation, creativity, and lasting freedom.
Gillian