Gillian Christie Presented with the Spirit of Entrepreneurship Award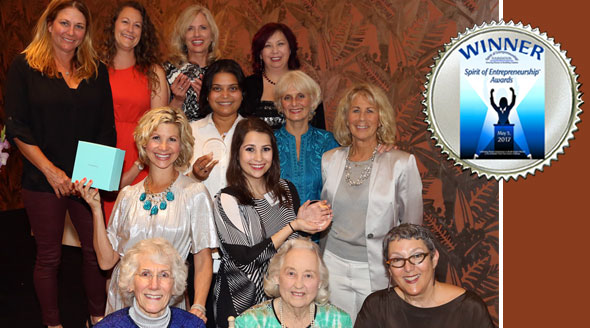 On May 5 at the Four Seasons Biltmore's Coral Casino, Lynda Weinman, co-founder of lynda.com, asked for "the envelope, please," and revealed the 11 outstanding women entrepreneurs who won the 2017 Spirit of Entrepreneurship Awards.
The winners were selected from 33 finalists in Santa Barbara and Ventura counties by independent judges who live outside the area and aren't connected with the Spirit of Entrepreneurship Foundation, the nonprofit that hosts this unique event.
Each recipient received an engraved award from Tiffany.
"These eleven winners were recognized for their achievements as entrepreneurs in diverse and forward-thinking businesses," said Cathy Feldman, board chair and CEO of the Spirit of Entrepreneurship Foundation.
"Together, these 33 amazing finalists we are honoring tonight have gross revenues that total approximately $16 million and employ more than 400 people in Ventura and Santa Barbara counties," Feldman said.