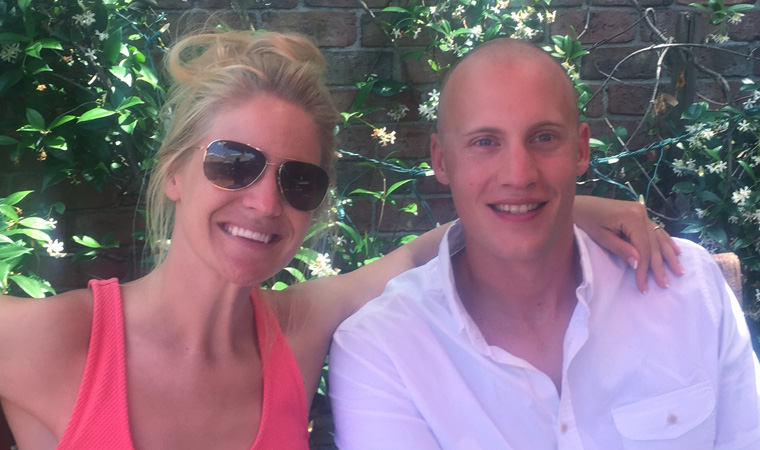 Our series adVentures of Entrepreneurship highlights our heroes, those who embrace and embody the spirit of adventure throughout the journey of entrepreneurship – the highs and lows, successes and adversity. Those who see a problem or need as an opportunity, who work tirelessly to transform "impossible" to "possible," "dream" to "reality."
Kayla and Robert Weidner of Repurposed Pod are on a mission to completely transform the cacao industry.  They have set off on the adventure of entrepreneurship with the goal to not just to build a successful business, but to also to reduce food waste, to progress responsible agriculture and to support the farmers who work the land to provide us with one of the world's favorite commodities — chocolate.
Rob Weidner had been working in the cacao industry for years [Rob is a veteran cocoa bean buyer] when one of his farm partners in Ecuador started to show him a new process that he was experimenting with.  His partner was utilizing the pulp from the cacao pod to adjust the fermentation process and standardize the flavor of the cacao bean for his chocolate industry clients. Watching his partner experiment got Robert thinking about the pulp surrounding the cacao pod. Everyone who has ever worked on a cacao farm knows that you can cut open the cocoa pod with a machete and suck off the sweet pulp. But, if you've never been to a farm, you would have no idea. In fact, very few people would even make the connection that chocolate comes from a tree. [image from a cacao tree]. The majority of the pulp has been historically thrown away or in some circumstances may be used as fertilizer on the fields.
It wasn't until Kayla joined Robert on a visit to the farm in Ecuador that the Weidner's had their AHA moment. By utilizing the fruit pulp and not just the bean, they could separate the commodities. This would add value into the cacao supply chain, supporting farmers as well as bringing a new ingredient and flavor profile to the market.
And so they began their journey as entrepreneurs. They quickly began to work with the farmers to harvest and package the sweet white pulp from the cacao pod. They created Repurposed Pod's 100% Cacao juice, they designed a beautiful package and they got to work. Like all good start up adventures, Repurposed Pod has experienced their share of challenges, though not as many as they had anticipated. And the challenges haven't been quite what they expected. When they tell consumers about their incredible journey decreasing food waste on the farm to bring to market this delectable new treat, everyone immediately attributes the cacao pulp to something that they know and love – chocolate. But, the flavor of cacao pulp is something so much different, a flavor that we have never experienced before. The education process has been more complex than they had expected, but they tell me about the challenges of their journey with joyful optimism. It is obvious that they see obstacles as lessons, barriers as tools for growth.
Kayla tells me with a laugh about their first trade show – Natural Products Expo East 2016. All of their product got held in customs while being shipped to the convention center in Baltimore from Ecuador. The product spent two days in quarantine without refrigeration. It was ruined. The Repurposed Pod team discovered this just one day before walking into their very first trade show. While most people would let this ruin their show, the Weidner's stayed in good spirits. "These are the things people warned us about entrepreneurship," Kayla remembers thinking "and we're not going to let it destroy our experience." Instead they shared their enthusiasm for the product.  Their booth was flooded with people and they even won a NEXTY despite only having 2 bottles of Repurposed Pod on hand.
By their second Expo, the Weidner's felt more confident. With fewer operational concerns, they were able to turn their focus to one of the joys of being an entrepreneur in the Natural Foods industry – community.  At this year's Expo East they began to feel as though they were part of a collective of companies driving truly sustainable missions and innovation.
Repurposed Pod's 100% Cacao juice is now available in 8.75 oz bottles for purchase online at repurposedpod.com or at select natural foods markets throughout the northeast. Repurposed Pod's 100% Cacao Juice is sustainable, all natural and deliciously sweet. Cacao Juice delivers polyphenol antioxidants, energizing B vitamins and magnesium. Drink it cold when you need a pure pick-me-up, add it to your smoothie, or your favorite spirit, like this delicious concoction from The New Baguette.